Information send by Vanessa Ross (21/02/2005)
---
Please find below listing for forthcoming exhibition
Exhibition Name: ECHOES, MEMORIES, DREAMS, RECENT SCULPTURE BY MICHAEL DAN ARCHER
Artist: Michael Dan Archer
Dates: Saturday 26 February - Sunday 10 April, All day
Location: Djanogly Art Gallery, Lakeside Arts Centre, University Park, Nottingham NG7 2RD UK
Admission: free
Summary: New work in stone, neon and clay brick. Working with Ibstock Brick, sculptor and public artist, Michael Dan Archer has created a new body of work for the exhibition which relates strongly to architecture and archaeology. The work also relates to his recent major public art commission for the East Midlands Conference Centre in Nottingham.
Exhibition Description: Michael Dan Archer's stone and iron sculptures have a massive physical presence strongly evocative of ruined ancient architecture and the archaeology of the remote past.
The core of this exhibition is formed by a new cycle of work strongly influenced by the artist's travels and his contact with many different cultures across the world. A recent interest in mud brick and clay technology developed during contacts with archaeologists exploring the famous Neolithic excavations at Catalhoyuk in Turkey. This interest was further developed with help from the experimental department of the Ibstock Brick Company which gave Archer access to the facilities and materials at the Leicestershire works where he has developed new means of making his sculptures in materials such as unfired clay.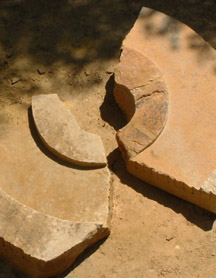 ---

This page maintained by Dave Ball
Slide Collection, Learning & IT Services
Last updated 22 February, 2005