Public Art Research Archive, Sheffield Hallam University
PUBLIC ART IN SHEFFIELD

---
Rolf Harris
self-portrait (graffiti), c1991
Brown Street
paint

---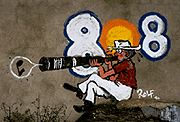 Location:
Corner wall of carpark in Brown Street, the wall backs onto the Independent Film Studios.
It is now visible from Brown Street and from the service entrance to the Persistence Works. (A-Z p5 5F)

Description:

Rolf is sitting playing the didgeridoo.

Commission:

None. This is a piece of graffiti.

Comment:

The Sheaf Valley Swimming Baths contained a mural painted by Rolf Harris. When the baths were demolished, the mural was destroyed. The story goes that this graffiti was produced as a protest, and so that Sheffield should still have a work by Rolf Harris! The story is unconfirmed.

The wall to the left of the Harris piece was decorated with a numner of commissioned pieces of graffiti in the 1990's. In 2005 these were covered by a single large piece by Kid Acne, which stretches the entire length of the Persistence Works service area.
---









---
This page maintained by Dave Ball
Slide Collection, Learning and IT Services
Last updated September 5, 2006