Public Art Research Archive, Sheffield Hallam University
PUBLIC ART IN SHEFFIELD

---
Paul Waplington
'Steelworker, 1986
Castle Street
brick

---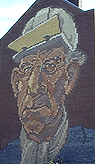 Location:

Gable end of four storey building on Castle Street, near the Law Courts, Sheffield City Centre

Description:

Iconic image dominated by the man's eyes and helmet

Commission:

Sheffield City Council Arts Department and Department of Land and Planning (Planning Division).

Comment:

The history of the steel industry is central to the city of Sheffield and its surrounding area.In recent years the industry (as mining in Derbyshire) has been in steady decline and this image is representative of the past Industrial boom and those who took a part in it. The portrait of the steelworker is not a total invention, but based upon that of an actual individual and then adjusted to fit the medium. The artist Paul Waplington commented: (1984) "The eyes had to be enlarged, for example, or the pupils and the whites would have been smaller than a brick."

The strong image has been featured in publications to promote the use of brick, e.g. Brickwork Design Magazine No.3., Vol.3, Jan. 1988; Guide to Successful Brickwork, Edward Arnold, 1993. The piece uses, after all, 30,000 bricks of 18 different types and 5 types of mortar. 'Steelworker' is considered by some to be one of the first modern public art works in the city, which has now expanded culturally embracing the arts within its changing cultural context .

---









---
This page maintained by Dave Ball
Slide Collection, Learning and IT Services
Last updated September 5, 2006