Public Art Research Archive, Sheffield Hallam University
PUBLIC ART IN SHEFFIELD

---
Vic Brailsford
'Stone Shrubs', 1994
Glen Howe Park
stone

---





Location:

There are two pieces, one placed either side of a wooden bench at Glen Howe Park near the lodge. (A-Z p72 north of 1A)

Description:

Carved stone. Relief leaves decorate these organic forms.

Commission:

Sheffield City Council under Brailsford's tenancy agreement for Glen Howe Park (see Fence, Glen Howe Park for details).

Comment:

The work is on a very approachable scale, it was originally intended as a memorial to the last gardener to work in the park.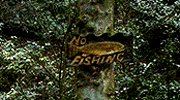 detail of wooden signs carved by the artist for a small pond adjacent to the 'Stone Shrubs'
More images of this piece
---









---
This page maintained by Dave Ball
Slide Collection, Learning and IT Services
Last updated September 5, 2006