Public Art Research Archive, Sheffield Hallam University
PUBLIC ART IN SHEFFIELD

---
Jason Thomson
Carved Wooden Bench, 1996
Ecclesfield Park
wood; oak

---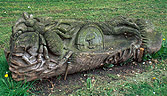 Location:

Ecclesfield Park Community Orchard, at the north-east corner of Ecclesfield Park. (A-Z p65 6F)

Description:

A bench has been made from a tree trunk and has been carved to resemble an apple tree, positioned on its side, with twisted branches and bearing over-large fruit. At each end a very large apple has a section removed, exposing its internal structure, and designed in such a way that they can be used as seats. In addition, the bench also features many details of wildlife typical on apple trees, such as a wasp, a beetle, a bird, and a maggot with maggot hole. A scroll has been carved on the side of the bench facing the path and gives the names of apple varieties.
APPLES/ CRIMSON SUPER COCKPIT/ RIBSTON PIPPIN/ BELLEDGE PIPPIN/ FLOWER OF THE TOWN/ LAMB'S SEEDLING
On the reverse side a round 'plaque' has been carved into the surface of the main body of the trunk and features an apple core, the words; ECCLESFIELD COMMUNITY ORCHARD 1996 and has been signed with the letters 'JT'.


Commission:

Ecclesfield Parish Council.

Comment:

The grass around the bench needs to be regularly cut to prevent the lower sections of the bench from being obscured.
The Jeffcock Memorial Fountain is 100 metres west of the bench.


More images of this piece
---









---
This page maintained by Dave Ball
Slide Collection, Learning and IT Services
Last updated September 5, 2006